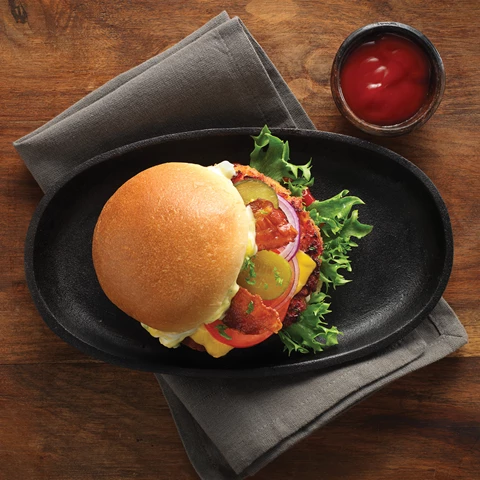 Jamonilla Burgerwith Cheddar and Bacon
Ingredients
Burger Patties
340 g Tulip Jamonilla
1 red onion
1 clove garlic
4 tsp flour
0.5 tsp dried chilli pepper
0.5 tsp cayenne pepper
1 tsp oregano
1 tsp paprika
Olive oil
1 eggs
Burger Toppings
4 slices of cheddar cheese
4 burger buns
1 tomato
Crisp green lettuce
Gherkins
1 red onion
Ketchup
Mustard
8 slices of bacon
Print recipe
Instructions
Prepare the toppings  
Finely chop one of the onions and mince the garlic. 

 

Mash the

Jamonilla

with a fork until it's like mince. 

 

Combine onions,

Jamonilla

, flour, spices, onion, garlic, and egg.

 

When mixed well, place the forcemeat in the fridge for about an hour.

 

Fry the bacon slices. Once the bacon is crispy, place it on a piece of paper towel to drain.

 

Slice the onion, gherkins, and tomato.
Make the patties  
Shape the mince into four patties and dimple with a knife on each side.

 

Season with salt and freshly ground pepper.

 

Heat a pan over high heat. Fry the burgers in oil for 1 minute on each side. Turn down the heat and fry for another 4 minutes on each side until done. Place a slice of cheese on each patty for the last 2 minutes. Remove the pan from the heat.

 
Assemble burger 
Cut the burger buns in half and fry the surface in oil until golden.

 

Add ketchup to the lower half of the bun, then lettuce, a pork patty with cheese, tomato slices, gherkins, onion rings, and mustard. 

 

Place two slices of crispy bacon and the other half of the burger bun on top.

 

Enjoy!

 
Tip
Swaps and substitutions 
There are endless ways to adjust and experiment with new flavors in your burger. By changing up a simple topping you can make a big difference. For instance, try to add blue cheese for a sharp and salty element or caramelized onions to give your burger a sweet touch. You can also make your own dip like a tabasco mayonnaise and add some spice and heat to the burger. 
See more recipes for sandwiches and burgers.
Get perfectly cooked bacon by placing the bacon slices on a cold pan and let the bacon heat with the pan. As the pan warms, the bacon will begin to release some of its fats. When it starts to buckle and curl, turn each piece over.