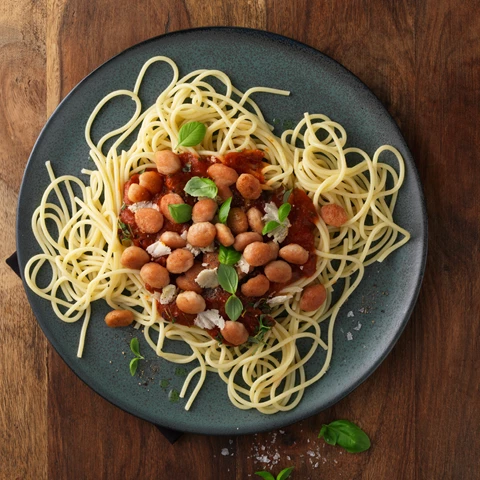 Spaghetti with Tomato Sauce and Tulip Quick Bites
Ingredients
250 g Tulip Quick Bites
200 g spaghetti
25 g butter
400 g chopped tomatoes
1 chicken bouillon cube
1 red chili pepper
3 cloves garlic
10 sprigs thyme
5 sprigs fresh basil
50 g freshly grated Parmesan cheese
Vegetable oil
Salt
Freshly ground pepper
Print recipe
Instructions
Mince the chili pepper, garlic and thyme.
Heat the chopped tomatoes in a pan. Add the bouillon cube and minced spices. Let the sauce simmer for 15 minutes. Season with salt and freshly ground pepper.
Cook the pasta according to packet instructions, drain the water and toss with butter.
Drain the Quick Bites and fry them in oil in a frying pan for 4-5 minutes until golden.
Serve the hot pasta with tomato sauce and fried Tulip Quick Bites.
Sprinkle with coarsely picked basil and grated Parmesan cheese, serve right away.