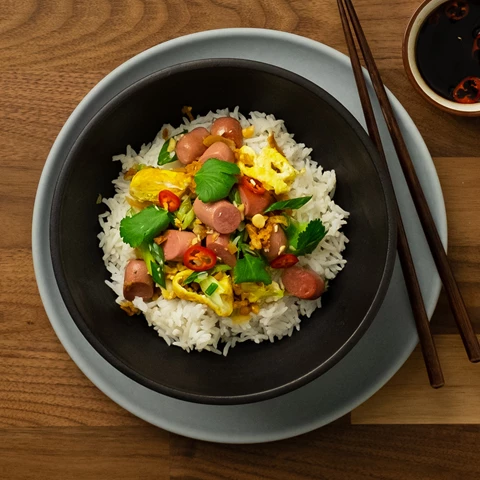 Sticky rice & Tulip Sausage
Ingredients
125 g Tulip Vienna Sausages
2 cups Sticky rice
2 Chicken eggs
50 g White salted dried radish
100 g Onion
100 g Spring onion
4 tsp Fried red onion
2 tsp Chopped garlic
4 tsp Roasted peanuts
1 tsp Sesame oil
2.5 tbsp Soybean sauce
3 tbsp Cooking oil
2 tsp Sugar
0.5 tsp Salt
1 tsp Seasoning
Print recipe
Instructions
Food preparation:
Slice Tulip Vienna Sausages diagonally
Wash the white salted dried radish and drain
Dice the onion
Finely chop the spring onion
Crush the roasted peanuts
Wash the sticky rice and pour it in the electric cooker and add 1½ cup of water. Add ½ teaspoon salt. Cook the sticky rice until it's done.
Whisk the eggs and add 1 tablespoon soybean sauce. Fry the eggs and cut them into thin strips.
Heat the pan with 3 tablespoons cooking oil, add the spring onion and stir for 1 minute.
Add garlic, white salted dried radish, 1 tablespoon soybean sauce, 1 tablespoon sugar and 1 teaspoon sesame oil.
Add onion and Tulip Vienna Sausages. Season with ½ tablespoon soybean sauce, 1 teaspoon sugar and 1 teaspoon seasoning. Stir-fry for 2 minutes, then turn off the fire.
Serve with soybean sauce and chopped chili.
Tip
Serve for breakfast, dinner, and party.